Frame Dimensions/Sizes
Unsure how eyeglass frame sizes are determined? Our specialists guide you through the specifics of eyeglass measurements and what they represent.
Example:
Size: 54-15-140
Total Width: 140 mm

The numbers beneath the frames reflect the SIZE MEASUREMENTS in millimeters (mm).
THE FIRST NUMBER (ex.54) = the width of the lenses
THE SECOND NUMBER (ex.15) = the distance between the lenses
THE THIRD NUMBER (ex.140) = the length of the temple arm including the portion going behind the ear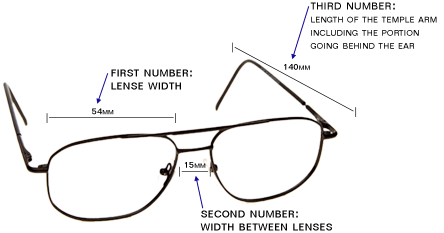 The TOTAL WIDTH (ex.140) of the frame is the distance across from the extreme left to the extreme right of the frame from a full frontal view.